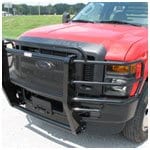 GRILL GUARDS
Renegade Grill Guards
Better quality and stronger built. Call Today for availability and pricing on grill guards, spray-in bed liners, and front or rear bumper replacements.
>Installed $525.00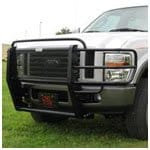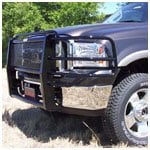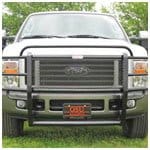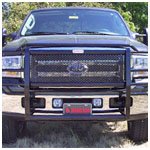 ---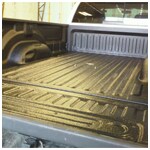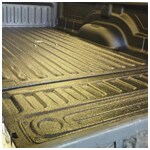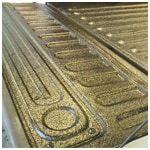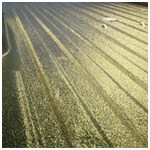 BED LINERS
Scorpion Spray-In Bed Liners
Urethane material that will not fade.
This is not an epoxy and will not get hard or chip.
Retail: $595.00 Extra Grip add $50.00
The most technologically advanced bed liner is here! Scorpion, the leader in spray-on truck bed liners, boasts a highly durable, completely UV stable truck bed liner.
THE SCORPION bed liner system is composed of the highest quality polyurethanes that keeps your truck bed looking new for years to come. This tough, virtually impenetrable polyurethane resists both moisture and rust, unlike many other "drop in" bedliners. By using a drop-in, moisture and rust can get into the smallest of cracks and the tiniest of holes, rendering your bedliner useless within a short period of time. Not with Scorpion Coatings. We understand the pride our customers take in their truck beds, and we know what it means to keep your truck looking new for years to come.
Here are a few benefits of the Scorpion system:
Extremely Tough and Durable - Lasts the life of your truck
Non-Skid - Stays in place
UV Stability - Unlike other bedliners for trucks, SCORPION will not fade!
Custom Texture Options - Depending on your personal need, this can be glass-smooth or extremely aggressive. It's up to you!
Anti-Static - Static decay is less than 1 second
Lifetime Warranty - A bedliner for trucks that comes with peace of mind
Vollenweider Metal Works is Les Jacobs Ford's exclusive applicator of Scorpion spray-on truck bed liners. We have had the pleasure of working with Mark Vollenweider for many years on our Cannonball bed AND ACCESSORY installations, and his work, QUALITY, AND ATTENTION TO DETAIL ARE second to none!
---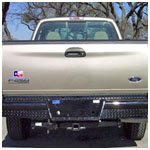 BUMPERS
Bumper replacement -- Installed $950.00
Rear Bumper replacements also available for all makes and models.
Retail: $425.00